SOLO: A Star Wars Story
The Strand will be showing SOLO starting Friday, May25th at 7 pm. 
Young Han Solo finds adventure when he joins a gang of galactic smugglers, including a 196-year-old Wookie named Chewbacca. Indebted to the gangster Dryden Vos, the crew devises a daring plan to travel to the mining planet Kessel to steal a batch of valuable coaxium. In need of a fast ship, Solo mee
ts Lando Calrissian, the suave owner of the perfect vessel for the dangerous mission -- the Millennium Falcon.
The Hamburg Strand TheaterCommittee is working toward making the theater a vital cultural center.  It will continue to offer movies and special showings in addition to offering live entertainment and events at the theater.
Faith Night at The Movies
Every 4th Tuesday of the month (unless a holiday falls on that week)
June 26: Babette's Feast
Tickets are $8 and the movie starts at 7 pm.  Soda and popcorn are included.  Discussion will be held before and after the movie.
Donate to the campaign to save our strand.  The strand was built in 1902 and need extensive work to make it a modern theater.  We have successfully converted it to digital format and plan to continue to add features so future generations will enjoy shows at the strand.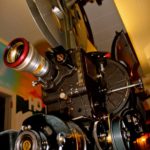 The Strand is available for Birthday parties, corporate events and other special occasions.  Call us at 610-562-4750 for details and information about renting the Strand for your special event.