Car 3- Driven To Win
The Strand will be showing Car 3 starting Friday, June 16th at 7pm. 
Blindsided by a new generation of blazing-fast cars, the legendary Lighting McQueen finds himself pushed out of the sport that he loves. Hoping to get back in the game, he turns to Cruz Ramirez, an eager young technician who has her own plans for winning. With inspiration from the Fabulous Hudson Ho

rnet and a few unexpected turns, No. 95 prepares to compete on Piston Cup Racing's biggest stage.
The Hamburg Strand TheaterCommittee is working toward making the theater a vital cultural center.  It will continue to offer movies and special showings in addition to offering live entertainment and events at the theater.
Faith Night at The Movies
Every 4th Tuesday of the month (unless a holiday falls on that week)
June 27: Left Behind
Tickets are $8 and the movie starts at 7pm.  Soda and popcorn are included.  Discussion will be held before and after the movie.
Donate to the campaign to save our strand.  The strand was built in 1902 and need extensive work to make it a modern theater.  We have successfully converted it to digital format and plan to continue to add features so future generations will enjoy shows at the strand.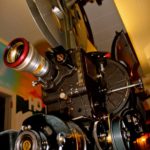 The Strand is available for Birthday parties, corporate events and other special occasions.  Call us at 610-562-4750 for details and information about renting the Strand for your special event.