Reopening Update: The Strand will be reopening on Saturday, November 28th.  We will be following all of the State and CDC guidelines.  View our reopening plan.
Please stay safe.
The Strand
Tickets for The Polar Express can be purchased online at Eventbrite.  Seating is limited so please order your tickets early.
The Hamburg Strand TheaterCommittee is working toward making the theater a vital cultural center.  It will continue to offer movies and special showings in addition to offering live entertainment and events at the theater.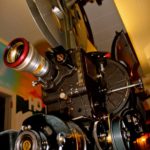 The Strand is available for Birthday parties, corporate events and other special occasions.  Call us at 610-562-4750 for details and information about renting the Strand for your special event.
Donate to the campaign to save our strand.  The strand was built in 1902 and need extensive work to make it a modern theater.  We have successfully converted it to digital format and plan to continue to add features so future generations will enjoy shows at the strand.