The Grinch
The Strand will be showing The Grinch starting Friday, November 16th at 7 pm. 
The Grinch and his loyal dog, Max, live a solitary existence inside a cave on Mount Crumpet. His main source of aggravation comes during Christmastime when his neighbors in Whoville celebrate the holidays with a bang. When the Whos decide to make Christmas bigger and brighter, the disgruntled Grinch
realizes there is one way to gain peace and quiet. With help from Max, the green grump hatches a scheme to pose as Santa Claus, steal Christmas and silence the Whos' holiday cheer once and for all.
The Hamburg Strand TheaterCommittee is working toward making the theater a vital cultural center.  It will continue to offer movies and special showings in addition to offering live entertainment and events at the theater.
Faith Night at The Movies
Every 4th Tuesday of the month (unless a holiday falls on that week)
Nativity Story- Tuesday, November 27th
The 4th Wise Man- Tuesday, December 18th
Tickets are $8 and the movie starts at 7 pm.  Soda and popcorn are included.  Discussion will be held before and after the movie.
Donate to the campaign to save our strand.  The strand was built in 1902 and need extensive work to make it a modern theater.  We have successfully converted it to digital format and plan to continue to add features so future generations will enjoy shows at the strand.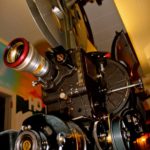 The Strand is available for Birthday parties, corporate events and other special occasions.  Call us at 610-562-4750 for details and information about renting the Strand for your special event.