Passengers
The Strand will be showing Passengers  starting Friday, January 20th at 7 pm. 
On a routine journey through space to a new home, two passengers, sleeping in suspended animation, are awakened 90 years too early when their ship malfunctions. As Jim and Aurora face living the rest of their lives on board, with every luxury they could ever ask for, they begin to fall for each oth

er, unable to deny their intense attraction... until they discover the ship is in grave danger. With the lives of 5000 sleeping passengers at stake, only Jim and Aurora can save them all.
Donate to the campaign to save our strand.  The strand was built in 1902 and need extensive work to make it a modern theater.  We have successfully converted it to digital format and plan to continue to add features so future generations will enjoy shows at the strand.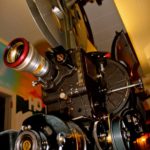 The Strand is available for Birthday parties, corporate events and other special occasions.  Call us at 610-562-4750 for details and information about renting the Strand for your special event.
Faith at The Movies
Join us on Tuesday, January 24 at 7pm for our first Faith at the movies presentation.  Tickets are 8 dollars and includes a discussion before and after the show.  
Young Trevor McKinney, troubled by his mother's alcoholism and fears of his abusive but absent father, is caught up by an intriguing assignment from his new social studies teacher, Mr. Simonet. The assignment: think of something to change the world and put it into action. Trevor conjures the notion of paying a favor not back, but forward--repaying good deeds not with payback, but with new good deeds done to three new people. Trevor's efforts to make good on his idea bring a revolution not only in the lives of himself, his mother and his physically and emotionally scarred teacher, but in those of an ever-widening circle of people completely unknown to him.