Terminator: Dark Fate -  Starts Friday, November 15th at 7 pm.  We will be showing it for one week only.
In Mexico City, a newly modified liquid Terminator -- the Rev-9 model -- arrives from the future to kill a young factory worker named Dani Ramos. Also sent back in time is Grace, a hybrid cyborg human who must protect Ramos from the seemingly indestructible robotic assassin. But the two women soon find some much-needed help from a pair of unexpected allies -- seasoned warrior Sarah Connor and the T-800 Terminator.
The Hamburg Strand TheaterCommittee is working toward making the theater a vital cultural center.  It will continue to offer movies and special showings in addition to offering live entertainment and events at the theater.
Faith Night at The Movies
Every 4th Tuesday of the month (unless a holiday falls on that week)
November 26 - Courageous
December 17 - The Christmas Candle
Tickets are $8 and the movie starts at 7 pm.  Soda and popcorn are included.  Discussion will be held before and after the movie.
Donate to the campaign to save our strand.  The strand was built in 1902 and need extensive work to make it a modern theater.  We have successfully converted it to digital format and plan to continue to add features so future generations will enjoy shows at the strand.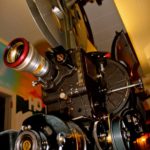 The Strand is available for Birthday parties, corporate events and other special occasions.  Call us at 610-562-4750 for details and information about renting the Strand for your special event.